About Akron BioInvestments Funds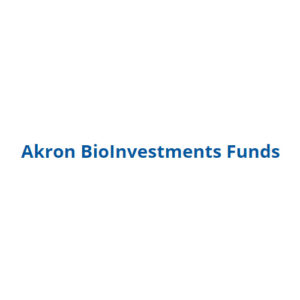 The Akron BioInvestments Funds support the attraction and establishment of biomedical companies in Akron. Created by the City of Akron through its Akron Development Corporation, The Akron BioInvestments Funds is comprised of two parts: the Product Development Fund and the Rapid Commercialization Loan Fund. These are used to target national and international companies focused on orthopedics, wound healing and cardiovascular science, as well as the use of biomaterials, the use of medical information technology and the development of medical devices. All companies receiving investment must commit to maintaining an Akron headquarters or plan to establish a material presence in Akron, with an emphasis on the Biomedical Corridor.
The $1.25 million Rapid Commercialization Loan Fund supports the commercialization of high-potential biomedical early-stage technologies by providing low-interest loans to companies that are close to commercialization, will create at least ten jobs in Akron within three years, and will commit to a long-term presence in the city. This Rapid Commercialization Loan Fund's investment committee will invest up to $250,000; most likely, the loan will take the form of either a convertible note or equity. Domestic and international applicants are welcome to apply during funding rounds, which occur four times a year. Applications for each round open as soon as the previous round is awarded.
Location
Akron BioMedical Corridor
166 S. High St.
Suite 202
Akron, OH 44308
Contact
Ready To Get Started?
Take the first step in starting or scaling your business by applying today for Network services and funding opportunities.